We have simplified the scholarship application process! WHOOP! 
Texas A&M University will now choose our scholarship recipients based on the criteria our scholarship committee provides to the university each year, and will only pull applicants who listed a McLennan County zip code as a home/parent address fpr consideration.  There will be a mix of incoming freshmen and current student scholarships available.
Incoming Freshman:  You should have completed the scholarship section on your Apply Texas application.  Nothing else is needed for you to be considered as long as you have a McLennan County zip code!  There were no special questions about McLennan County or Aggie Moms that you would have had to complete. You've done enough work to get to this point!   Good luck and WELCOME TO THE AGGIE FAMILY!
Current Students:  Make sure you complete the university scholarship application for current students every year!
Waco McLennan Aggie Mom's Scholarship Recipients 2021
Congratulations Freshmen Recipients:
Rylee Ritchie
Karley Baker
Emma Lowe
Larson Hoffmeyer
Leslie Goodman
Kiley Coats
Myra Kingston
Hanna Crawford
Jenna Borucki
Jonathan Ayers
Congratulations to the Current Student Recipients:
Tori Taylor
Morgan Claxton
Ashlyn Smith
Shelby Ruggles
Brennon King
Taylor Vowels
Emily Dodson
Mark Gibel
Haley Luse
Danielle Khoury
Waco McLennan Aggie Mom's Scholarship Recipients 2020
| 2020 Waco McLennan County Aggie Moms Scholarship Recipients | |
| --- | --- |
| Hope Faith Aguilar | Waco High School |
| Will Browning | Crawford High School |
| Michael Cadieux | China Spring High School |
| Davis Golden | China Spring High School |
| Jonah Williams | Eagle Christian Academy |
| Natalie Brown | Texas A&M University |
| Claire Crow | Texas A&M University |
| Gracyn Goolsby | Texas A&M University |
| Luke Johnson | Texas A&M University |
| Kalee Wood | Texas A&M University |
| Awarded by our Texas A&M University Representative | |
| Karoline Turner | Robinson High School |
| Casey Turner | Lorena High School |
| Anson Arellao | Lorena High School |
| Joshua Scott Edwards | China Spring High School |
Waco McLennan Aggie Mom's Scholarships 2019
| | |
| --- | --- |
| Waco McLennan County Aggie Moms Scholarship Recipients | |
| Paulina Aguilar | University High School |
| Holland Bankston | Lorena HS |
| Carson Farley | Axtell HS |
| Cameron Fuentes | Robinson HS |
| Elizabeth Grant | Waco HS |
| Amanda Guyton | Lorena HS |
| Noah Jenkins | McGregor HS |
| Macy Kunze | Lorena HS |
| Yoana Martinez | LaVega HS |
| Kaci Newton | Robinson HS |
| Olivia Pankonien | Mart HS |
| Noah Martin Richard | Robinson HS |
| Erica Nicole Sykora | Robinson HS |
| Marci Westerfeld | Crawford HS |
| Macy Collins Wright | China Spring HS |
| Kathryn Faust | TAMU |
| Caden Glick | TAMU |
| Luke Miles Johnson | TAMU |
| Kinze Reich | TAMU |
| Duncan Russell | TAMU |
| Awarded through Texas A&M recruitment Rep | |
| Claire Crow | Robinson |
| Emily Londenberg | China Spring |
| Morgan RheAnn Thielepape | Midway |
| | |
| Charlotte Siegmund/Coldwell Bankers | |
| Hayden Murrey | Bruceville-Eddy HS |
| | |
| Dalia Garcia Memorial | |
| Angela Rost | TAMU |
| | |
| Waco McLennan County Aggie Moms' 2019-2022 Endowed Scholarship | |
| Mason Ling | Midway HS |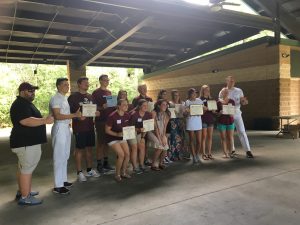 2017 Scholarship Recipients